Cypress County Choppers is pleased to offer a course on building your own chopper; a 250 Fat Bastard. All parts for assembling the chopper are imported from the U.S.A.
Butch states that "this particular bike is 10-15% Harley, or maybe even more."
The school will be held in Medicine Hat, Alberta, in Butch's garage. He will be making his tools, which include a welder, available for use.
Butch's reason for starting a chopper school is to prove to others that they can do it themselves. Building a motorcycle will give participants hands-on experience.
The first thing participants will do is a mock set-up of the bike in order to see which parts they will keep and which parts will be discarded. That's what makes building a custom motorcycle so appealing; personal customization.
Next, participants will take the bike apart to be transported for painting, and finally, the bike is brought back to be re-assembled.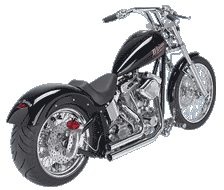 Once complete, the bike will be inspected by a bike mechanic, insured, and read to ride.
"Building bikes is an art, because you're putting a bit of your soul into it," says Kromrey.
Individuals can save about $5,000. by building their own custom chopper.
The class costs $800. and depending on how fast everyone works, they could have a bike built in about 80 to 100 hours.
For more information on chopper school, you can contact Butch by phoning (403) 529-7099.